When it comes to orthodontics, the choices can be overwhelming. There are many types of braces, and each one has its own set of pros and cons. At Implantus, dental clinic in Tirana, we're here to help you choose the best option for your smile and lifestyle.
Traditional Braces
Traditional metal braces are the most common type of orthodontic treatment. They're made up of a series of brackets that are cemented onto your teeth, with wires that connect them together to move your teeth into place. The wires' ends are attached to an elastic rubber band that runs around your head to create pressure on your teeth. This forces them in the proper position while you're wearing the device.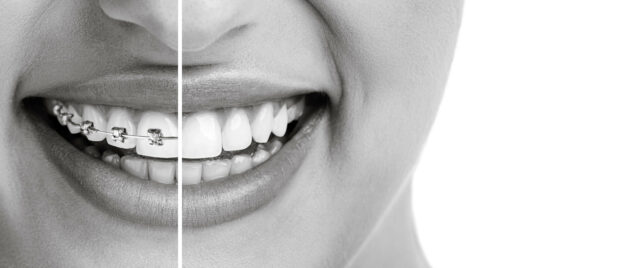 Advantages of traditional braces:
Metal braces are durable and last for years if properly cared for and cleaned every day. They can
also be used on adults as well as children because they don't require any special training to insert or remove them. You can also choose from a variety of colors and styles when it comes to metal brackets.
Disadvantages of traditional braces:
Since metal braces aren't removable, they may be less comfortable than other types of braces during certain activities, such as exercising or eating certain foods (depending on how tightly they're fitted). Metal brackets may also require extra care when it comes to cleaning them, so they don't stain or discolor from food particles left behind after eating.
On the other hand, Invisalign is a great alternative to traditional braces and involves clear aligners that are worn over your teeth. The aligners are removable and need to be replaced every few weeks as your dentist makes adjustments until all of your teeth have been moved into position. Invisalign can be used to treat mild to moderate misalignment issues with one or
many teeth, and it is not recommended for severe misalignment cases.
If you're interested in getting traditional braces or invisalign, you can book an appointment with our orthodontist Dr. Eliona Prifti and reach out directly for more information…